Parent Portal

Our Moseley Club is located at:
610 E 42nd St
Garden City, ID 83714
For more details or registration help, contact:
Noel Bolduc, Unit Director
noel@adaclubs.org
or call (208) 376-4960
Orientation Packet
A parent or guardian and the child must attend a new member orientation before they can participate in any club activities. New orientations are held:
January-December
Every Wednesday at 5:30 p.m. (Please call ahead in case of Club cancellation)
May
The First Wednesday in May at 8:30 a.m. (Please call ahead in case of Club cancellation)
Late arrivals to orientation will be asked to come back the following week. Please do not show up more than 15 minutes early.

General Attendance:
3:00 – 8:00 PM
Sunrise Club:
7:00 – 9:00 AM
AM Year 1 Program:
9:00AM – 12:00PM
PM Year 1 Program:
12:00 – 3:00 PM
No-School Days
General Attendance:
11:00 AM – 6:00 PM
Early Risers:
7:00 – 6:00 PM
Anser Charter School
Cynthia Mann Elementary
Koelsch Elementary
Lowell Elementary
Mountain View Elementary
Hillside Junior High School
Pierce Park Elementary
Taft Elementary
Whittier Elementary*    
*Please contact the school for more transportation information.
Who We Serve:
1st – 12th Grade
Cost: $25 /School Year
Memberships include: healthy and nutritious after-school snack and dinner, homework/tutoring help, arts and crafts, sports activities, technology activities, a designated teen area, and a full afternoon of games and play with peers and positive adult role models.
Optional program for an additional fee.  
Sunrise Club is a before-school program which allows you to drop off your child as early as 7:00 AM at your child's designated Club.  Breakfast is included and we ensure safe transport to school.
Transportation available for children attending the following schools:  Anser, Koelsch, Lowell, Taft, and Whittier Elementary. For all other schools, transportation must be arranged by guardian.
Optional program available for an additional fee.
This program serves children enrolled in half day
Kindergarten
each school day during the morning or afternoon half of the day when they are not in school.
Optional program available for an additional fee.
On no-school and snow days, members can be dropped off at the Club as early as 7:00 AM for an additional $6/day.
Enrollment can be found on the Parent Portal two weeks before the no school day.
Club FAQ

Club Menus

Club Closures

Moseley Center Activity Calendar
December

2017

Sun
Mon
Tue
Wed
Thu
Fri
Sat

14

Family Night Holiday Party

•

21

Early Release--Club closes at 7

•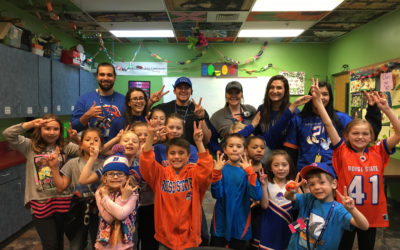 The Moseley Center recently had a Sports Theme Dress Up Day at the Club. The kids all know that Hannibal M., Youth Development Professional, LOVES the Boise State Broncos. He was able to capture a great snapshot with our kids and recalls how special the day was to him.
read more