The Wild West Auction is going VIRTUAL!
Online Auction begins Wednesday, July 15th. 300+ Exciting Auction Items Trips, Art, Jewelry, Dinners, Sports Memorabilia, Fabulous Gift Baskets, an Eight-Week-Old Puppy, and More!
BID NOW!
July 15, 2020 | Online Bidding Begins
July 24, 2020 | virtual live event 
The Wild West Auction is Going Virtual for 2020! 
Please join us for the 22nd Annual Wild West Auction benefiting the Boys & Girls Clubs of Ada County. Due to the current climate, we have gone virtual! You will still be able to bid on auction items, give through sponsor-a-kid during our virtual paddle raise, have a chance to participate in giveaways for great prizes, and hear from some amazing kids.
Tune in to our Facebook on Friday, July 24th at 6:00 p.m. for our Live Broadcast featuring Auctioneer Larry Flynn and KTVB's Mark Johnson who will be LIVE at the Club bringing the party to your living room.
Register to bid before July 24th and you'll have a chance to win a $100 Amazon gift card! All giveaway winners will be announced during the Live Broadcast.
Now, more than ever, Boys & Girls Clubs needs your help to keep our doors open to thousands of Ada County children who need a place to stay safe, supervised, and fed.
One of the biggest ways you can help support us and participate on July 24th is by hosting a watch party on Facebook or sharing our live stream on your Facebook page so your friends and family can join us, too! 
All Donations Matched Up To $25,000!
YEE HAW!  We just received a $25,000 matching gift for the Wild West Auction from an anonymous donor!  Please help us match this amazing gift by making a donation to the Boys & Girls Clubs of Ada County today!  Thank you to our angel donor for helping us give Great Futures.
THANK YOU TO OUR SPONSORS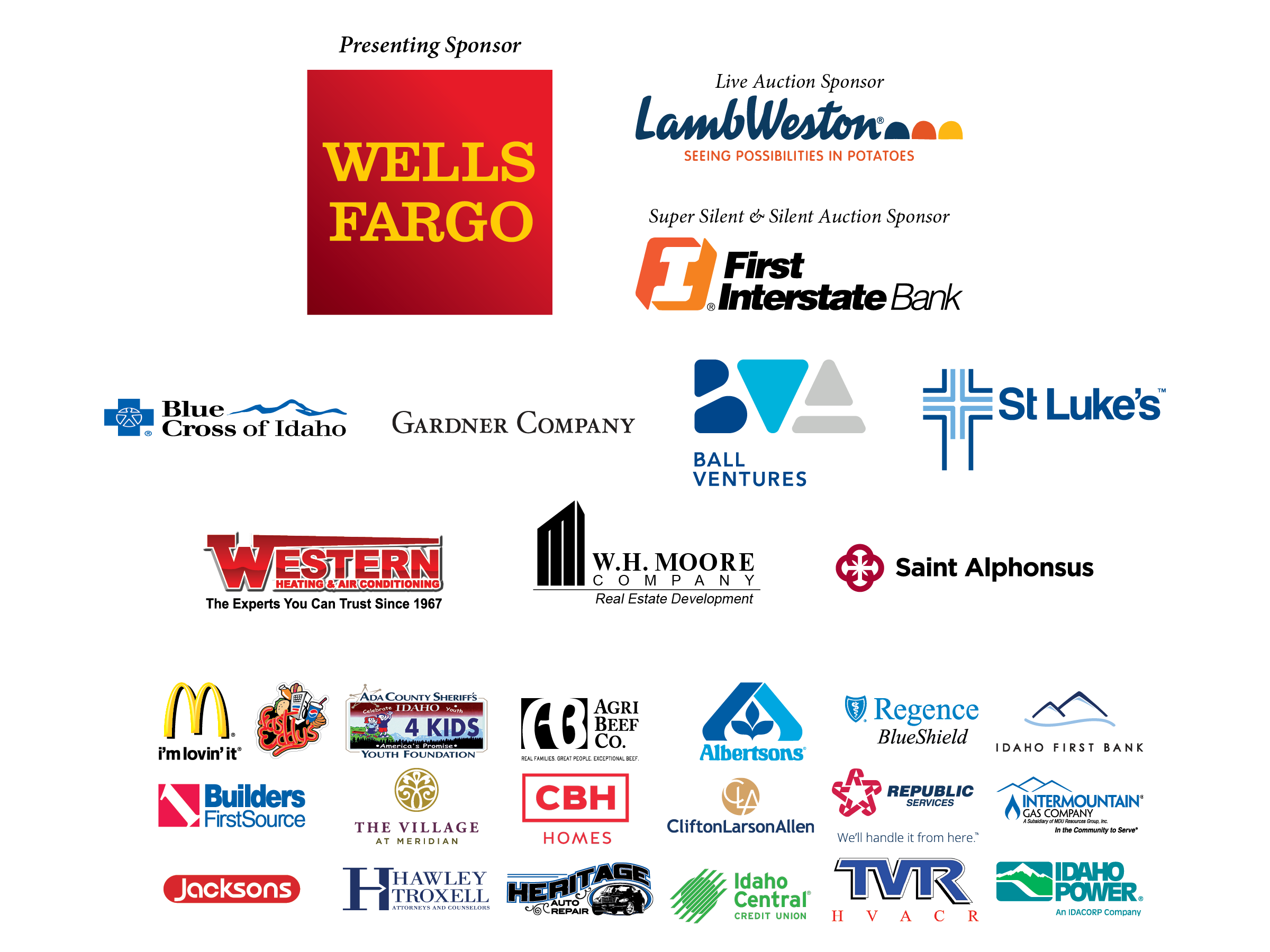 Sponsors
| | |
| --- | --- |
| Title | Wells Fargo |
| Live Auction | Lamb Weston |
| Super Silent and Silent Auction | First Interstate Bank |
| Video | Blue Cross of Idaho |
| Dinner "Grub" | Gardner Company |
| Dinner "Grub" | BVA Development |
| Dinner "Grub" | St Luke's Medical Center |
| Online | Western Heating & Air |
| Hospitality | W.H. Moore Company |
| Sponsor a Kid | Saint Alphonsus |
| Photo Booth | ICCU |
| Photography | Republic Services |
| Check-in & Merchant | Fast Eddy's |
| Western Reel | Charles & JoAnne Wilson |
| Wall of Wine | CenterCal, The Village at Meridian |
| Watering Hole | Jacksons Food Stores |
| Old Time Fiddler's | CliftonLarsenAllen |
| Popcorn | TVR |
| Raffle | Heritage Auto Repair |
| Country Music | Builders FirstSource |
| Printing | Albertsons |
| Kid Greeter "Howdy" | Regence Blue Shield of Idaho |
| Dessert | Intermountain Gas |
| Thunder & Lighting | Idaho Power |
| Buckaroo | McDonalds |
| Wrangler | Agri Beef |
| Welcome Drink | Idaho First Bank |
| Prize | Hawley Troxell |
| Security | Ada County Sheriff's Office |
| Stage | SelectHealth |
| Live Item Sponsor 1 | Tom & Diana Nicholson |
| Live Item Sponsor 2 | CBH Homes |
Table
Alliance Title & Escrow
Allied Bonding
Allied Business Solutions
AmeriBen/IEC
Angels Among Us
Banner Bank
Beniton Construction
Blue Cross of Idaho
Boise Hunter Homes
Bright Bank
Buckner Insurance Group
Frank Bushman and Marti Whitney
Citi
Clearview Cleaning Services
Cole Architects
Commercial Tire
Larry Cornelius
CSHQA
D.L. Evans Bank
Jan & Tammy de Weerd
DMG Real Estate Partners
Duke Scanlan Law/Seidl Home Co.
E-M Construction
Empire Title
ESI
Fidelity National Title
Fisher's Technology
Foley Freeman Attorneys
Fresca Mexican Foods
Belinda & Tim Gordon
Hand-d-Man
Scott & Mimi Hayes
HC Company
Hewlett Packard
ICON Credit Union
Idaho Trust Bank
Interior Systems
J. Oates Portrait Design
Dr. Bill Jones
Max Giving
McLaughlin & Associates
Moseley Family
Micron Foundation
Moir & Company Real Estate
Mountain West Bank
Optum Idaho
PacificSource Health Plans
Monte & Michelle Palmer
Paradigm of Idaho
PayneWest Insurance
Pioneer Title
Post Insurance
Quest Groups
RBC Wealth Management
RCF Commercial Cleaning
Fred & Sandy Rice
Ripley Doorn & Company
Shadow Mountain Homes
Simplot
Specialty Construction Supply
Thorton Oliver Keller
Robert & Kendall Tierney
TitleOne Corporation
US Bank
Washington Trust Bank